If you are wondering what it feels like to be 36 years old I am now someone you can ask.
I don't feel any different from yesterday.  Or last year. Or heck, even ten years ago.
Actually, I bet I feel better now than I did ten years ago.
Back then I was busy carrying baby on my hip, nursing around the clock and eating with one hand while feeding my son with the other.
Now I get to run without pushing a stroller and eat fudge cake at night, savoring every bite without needing to share it.
I was surprised with Linda's Fudge Cake last night. Someone must know me well. Or just read my blog.
Anyway, we have a Goodie Bag Giveaway Winner!
Nausheen!
Yay! Thanks for coming to my party otherwise known as my blog.
Nausheen, I will email you this morning.
So today isn't just my special day. It is also known as Thinking Out Loud.
I am also going to link up with Arman because it just so happens his Spill-It Sunday questions for this week revolve around birthdays.
Happy early birthday Arman, from one Gemini to another!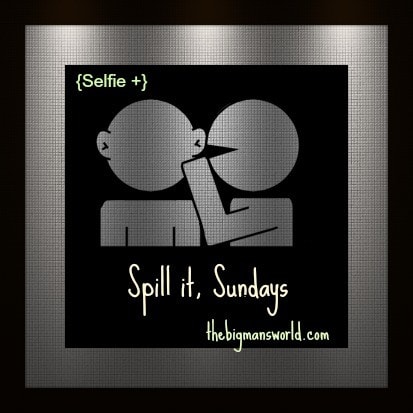 1. When is your birthday?
Today! June 5 is forever a special day on the calendar.
In fact, when I was about seven years old, I wrote a letter to Ronald Reagan asking if he would please make my birthday a National holiday.
While he did not, he did happen to pass away on June 5, 2004 which I found a bit eerie.
2. What would your ideal 'day' look like?
How about I tell you tomorrow after today happens?
3. When was your most memorable birthday?
Is there anything better than bringing Dunkin Donuts munchkins to school to share with your class and wearing a ridiculous crown made out of construction paper?
Okay so sweet sixteen was an awesome time. Seventeen and getting my driver's license was a memorable experience.
Other than that, my 27th birthday stands out in my mind because it was the first time we went away for the night without my son.
I was surprised with a weekend in the city at the Ritz with a day of shopping, dinner at Tao, cookies and milk super late in the hotel club lounge (of course I remember the cookies) and breakfast the next morning at our leisure.
4. When was your worst birthday?
I really never had a terrible birthday.
Well, there was my 30th birthday I guess which we may want to mention here.
Would you believe my divorce process initially began (the first time around- it was put on hold  once but that's neither here nor there at this point)  two days before my 30th birthday?
In fact, I had to drop off legal documents at my lawyer's office on my actual birthday.
However, I was okay.
I had gone out the night before for an amazing laugh-filled evening with my bestest of friends.
And after the stop at my lawyer's office, I ate a giant chocolate chip cookie cake in the car on the way to the Yankees game.
There is always something to smile about, especially when cookie cakes are involved.
5. What is the best birthday present you have ever received?
I am a girl. I like nice things. I will never turn down jewelry or handbags.
However, the thoughtful gifts are the most special and memorable.
For my 22nd birthday, my boyfriend->husband->now ex-husband came to my house early in the morning on his way to work to bring me several pounds of my favorite m&m's with a teddy bear. I still think about that gift; the thought that went into it plus the effort of going out-of-the-way to brighten my birthday morning.
I was also given a bracelet later that evening, yet for years now, I speak first of the m&m delivery part of the gift rather than the jewelry.
6. What is the worst birthday present you have ever received?
Can't recall a bad gift. Just bad cakes.
My father never listened or understood my requests.
There was the year of the Oreo cake which was wrong on so many levels.
Hello, I do not want vanilla icing with oreo crumbs.
How many times I repeated, "chocolate fudge outside vanilla cake inside. Or, chocolate outside, chocolate inside…"
So then came the chocolate cake with HARD ICING.
All chocolate icings are just not created equal.
Icing needs to be soft and thick and mushy and pass the finger test where if you touch the cake, you can swoop up a nice amount of chocolately goodness without struggle or "breaking" the icing.
Since the time of the hard icing cake fail, my father's cake selecting privileges were revoked, even for his own birthday.
Remember I made him this epic chocolate fudge cookie dough layer cake back in December?
7. What is a health related gift on your wish list?
Health related in my eyes means running related and running related at the moment means I need some sort of light-weight running jacket for rainy summer days.
Lightweight enough to not make me hot yet covers my head and upper half from getting too drenched.
This one will do the trick.
8. What is a food related gift on your wish list?
I do appreciate a nice Edible Arrangement.
I always say I should send one to myself but please, feel free to send me one. Make sure it includes the chocolate covered apples. Thanks.
9. What is your birthday cake of choice?
This is the part where I tell you once again how much I enjoyed reading through all of your comments about your favorite cakes and  preferences.
By now, you know my deal.
A la mode is always welcome. Just not coffee ice cream. Coffee goes in my cup.
Be sure to check out what everyone else is thinking about today and pop on over to say Happy Birthday to Arman on Sunday!
****************
Who is going to Blend this weekend?
If you run in the rain, do you have a summer rain jacket?
What treat did you used to bring into school for your birthday?
How do you like your icing (or frosting)? Obviously my favorites are chocolate fudge or a nice ganache. If it's vanilla, I prefer whipped cream or the occasional buttercream.